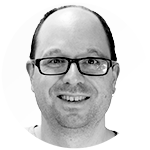 Thomas Crausaz is born in Switzerland in 1973, is married and has 2 children.
In 2003 he move to the United Kingdom to work in the video game industry as an artist. He work on many titles in different st
udios.In 2012 he moved back to Switzerland to create the GameArt department at Epac, a private art school in Saxon.
In 2016, he founded Adventures-Lab a studio  specialised in producing content for augmented reality and gamification.
2016-2018
Senior 3d artist – illustrator – matte painter
at Tharmine Studio
June 2010 – Present
Senior Artist
 at 
Crytek
 UK
December 2009 – June 2010 (7 months)
Lead Artist
 at Monumental Games
September 2008 – November 2009 (1 year 3 months)
Lead Environment Artist
 at Monumental Games
October 2007 – September 2008 (1 year)
Senior Environment Artist
 at Monumental Games
September 2006 – October 2007 (1 year 2 months)
3D environment artis
t at Free Radical LTD
April 2005 – September 2006 (1 year 6 months)
3D environment
artist at Climax
March 2004 – April 2005 (1 year 2 months)